FITA Magazine Vol. I / Invisible Atlas
Léo Caillard
Sculpture Between Ancient Greece And Contemporary France
Interview by Francisco Teles da Gama
Photograph © Léo Caillard
Since he was a child, Léo Caillard has been fascinated by the concept of time that runs fast, that overtakes and escapes through the mists of oblivion. The artist was born in Paris in 1985 and would determine the exchange of the lines woven by Clio, goddess of History. He studied at the Parisian school of image Gobelins, lived in New York, and never forgot the past as a backdrop for his art. That is why in 2009 he created the
Art Game
collection, where he transports masterpieces of painting to our immediate and sudden reality.
Caillard likes to surprise and deceive by giving a different perspective of the art of classical antiquity, adapting these perfectionist figures and scenes to contemporary customs and experiences. This explains the hipster busts, created in bronze and marble, typical characters of the 1950s and the 21st century. He subverts expectations and presents sculpture as something intrinsic and of contemporary expression, transposing the Greek representations of the Olympian gods to the present day with the Heroes in Stone collection, where we can see marble busts of Marvel and DC Comics superheroes. The message he delegates is that no matter how much time passes we continue to erect statues to personalities and deities scattered around the world.
The artist maintains a very close relationship with the Musée du Louvre, and with other galleries and museums of enormous international importance, culminating in the exhibition of reproductions of the renowned works of painters such as Leonardo Da Vinci or Johannes Vermeer at the Paris-Charles de Gaulle and Paris-Orly airports.
In 2018 he participated in the
Classical Now
exhibition at King's College London, accompanied by other great figures of contemporary art, such as Damien Hirst and Marc Quinn. There are creations that will never be forgotten in the current art scene. Among these masterpieces are two marble pieces from 2017.
Wave Stone
, an uncharacterized bust in a spiral, representing the famous Venus de Milo, created by Alexander of Antioch, and
Light Stone
, a statue of an athlete covered in neon led, paying homage to Miron's sculpture
Discobulus
. This bridge between the historical mentors of sculpture and the present day makes Léo Caillard's work unique and will mark a generation of new artists.
Photograph © Léo Caillard
Castletown on Pedestal
How did sculpture appear in your life?
I guess sculpture was already there since my childhood. I was in deep passion with all kinds of creative activities including sculpting on stone and wood. It then became more like a professional activity 10 years ago when I decided to stop photography to move full time onto marble sculpting.
What materials do you use the most to design your art?
It can be surprising, but it is mostly photography. I love to walk in the Louvre, on Tuesdays when it is closed, as I have the chance to be admitted once in a while over there. My photo camera is a great tool to catch the details of a shape, and the inspirational process eventually comes with this media. On the technical side, I also work on concept research on my 3D software. It is an amazing tool to easily sculpt your idea and then move forward on marble carving afterward.
Photograph © Léo Caillard
Discobolus
Your pieces create a bridge between the History of Art of Classical Antiquity and the present. When did this fascination with the past arise?


Once again, this fascination with the past arises in my childhood. The first time I visited prehistoric caves or natural history museums, I felt in love with this concept of time. I was also very interested in the night sky observations, stars. Space and time as scientific concepts are such interesting and creative ideas. Especially when you understand the relativity of what Einstein describes. Then it evolved even more during my 20s, when I started to travel and discovered Rome and other cities from the Greek period of time. I was surrounded by time. The past and the present collide into the same places and that was very inspiring to me. Then I lived in New York City in 2007 and 2008 after my studies, and the modern lifestyle of this boiling city was the final step of my inspiration. In between past and present, always.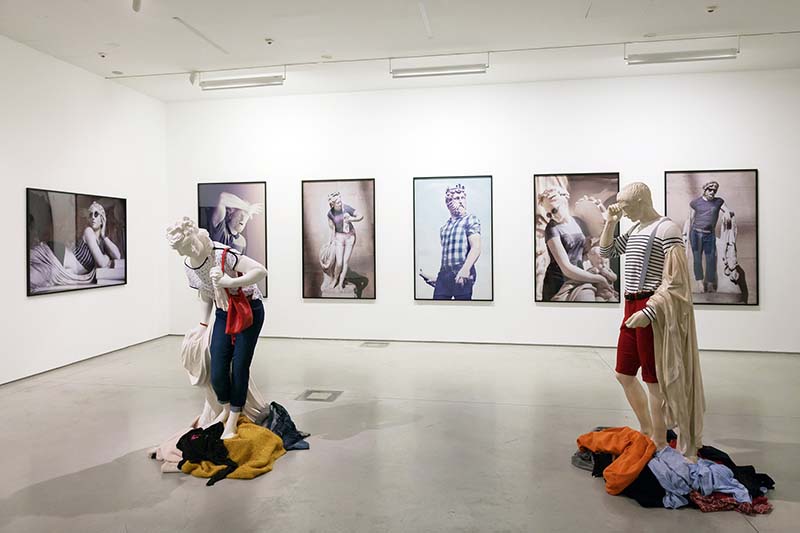 Photograph © Léo Caillard
Mocak Krakow


The deconstruction of classical art creates a rupture of pre-existing concepts. What kind of reaction do you expect to receive from the public?


An artist doesn't have to expect anything. He just does what he believes. He has a personal truth that he wants to present to others. Andy Warhol said that the artist must not be part of the society, then he must not expect anything, he just spread an emotional feeling about the world which he believes will help others to feel conscious of themselves. It is a pure altruism move without any expectation. People can love it or hate it, or be sad or happy about it, it is all good as these are true feelings. Feelings make people think about who they are and where they go, that is what makes us alive and human. Pre-existing concepts are made to be deconstructed over time.

Photograph © Léo Caillard
Gilles and Boissier



How did you manage to reach collaborations with prominent museums and galleries, such as the Musée du Louvre?

This happened by doing over and over what I thought was important and relevant to do. After several rejections they started to open their doors understanding that someone who does not give up must have something strong to say.
Your collaboration with the Musée du Louvre and Paris Airports was impressive. What was the method used to choose the paintings that would appear in this installation? How do you think about this work now, at a time when airports are emptier?
It was a very interesting project and a very big chance that I had to be the only one to decide which painting I would like to present in this form of exhibition. It was all about picking strong and historical paintings from different periods of time. And then start from the older to the most recent ones in order to offer an art historical journey to the viewer. This was a taste of the amazing collection of the Musée du Louvre in an incredible one way walk onto a 40 meters large image. The Louvre and the Airports of Paris have been amazing on that project, letting me do what I had to do without interacting that much on it. I am very thankful to them for that, as Art is about trust.
Photograph © Léo Caillard
Christie's Education
How did you adapt your work in this pandemic moment? Did you have to adapt your studio?
Not that much, I keep on working and carving as usual as an artist work is mostly lonely. I do have some assistance once in a while but nothing too complicated to manage during the Covid-19 situation. The most complicated thing is the planning; as I do have several exhibitions at the same time and sometimes one is cancelled or moved to another date, which is a bit annoying when you have to prepare your creations a few months in advance. But anyway, nothing that hard because I can keep on working on my art. That is the most important. It is also a very inspiring period as the world is changing, pretty fast indeed. The artist must place a step forward and this period is quite challenging on that aspect.
What advice can you give to an artist who is just beginning his journey?
Work like there is no tomorrow. Because there is no tomorrow. And that is the magic of life. Be happy, love the human being, work on altruism, and stay passionate about your art. That is my strong message for the young generation. Time does not exist, so make it last.
The interview to Léo Caillard was published on pages 68 to 71 in
Professional Apogee
chapter of FITA Magazine Vol. I / Invisible Atlas dedicated to the city of Venice.