Sculpture
Jéssica Burrinha
︎ @jessicaburrinha_sculpture
︎ @JessicaBurrinhaSculpture
︎ jessicaburrinha.com
Barreiro, 1993. Jéssica Burrinha was born in Portugal and studied in Lisbon.
In 2016 she finished her Bachelor's degree in Sculpture at the Fine Arts Faculty of the University of Lisbon; in 2020 she finished her Master's degree in Sculpture at the same University.
In 2014, she attended the Professional Training Course of Workshops on Faience series at CENCAL (Professional Training Center for the Ceramics Industry), in Caldas da Rainha, and in 2017 she attended the Professional Training Center of Metallurgical and Metalworking Industry of Lisbon, in General Locksmiths - Welding and Oxycutting, CENFIM, Lisbon.
She began exhibiting in 2015 and already participated in several group exhibitions in different regions of Portugal and Spain, as in 2018 in Art Madrid'18, Contemporary Art Fair, through Galeria Arte Periférica, and in CCB, where she exhibited in their twenty-fifth anniversary, in Lisbon.
In 2020, she participated in the exhibition "Creative (Un) makings: Disruptions in art/archaeology, "Ineligible", at the International Museum of Contemporary Sculpture
Santo Tirso and in the XXI and XXII International Biennial of Art of Cerveira in Vila Nova de Cerveira.
She has already received four Honorable Mentions, one at the Mertolarte Competition, 2016, two others in Salvaterra de Magos, in the Prémio Infante D. Luís às Artes 2017 and 2019 and in the 4th International Biennial of Gaia Art 2021. And was honored with a second prize in the 2018 Mertolaarte Competition, in Mértola.
Inspired by Nature, Jéssica Burrinha has worked with various materials such as wood, clay, metal, plaster cement and earth. In 2018, she started to investigate the potentiality of raw and compacted earth, after attended a compressed earth workshop, as part of the European project LearnBION, given by architect by architect Tânia Teixeira at the Faculty of Fine Arts, in Lisbon.
Currently, she is deeply involved in the interaction between space and compacted earth, always seeking to highlight the simplicity and purity of the essential materials. The beauty of her work lies in the of her sculptures, which degrade and regenerate, considering them as "living sculptures".
Microterra
(2022)
In Materiae Veritas II
(2022)
Regenerar
(2021)
Terra Feita de Tempo
(2019)
Tão Longe
(2019)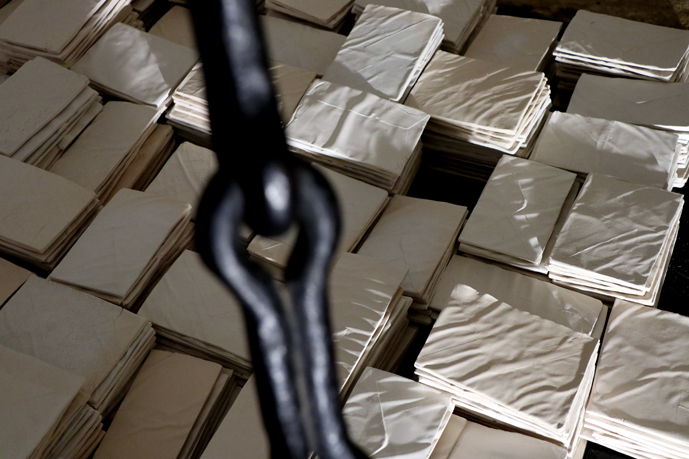 Missão Cumprida
(2019)
Identidade
(2018)
Recomeço
(2018)