FITA Magazine Vol. II / Garden Constellation
Catarina Veiga
The Strings Of A Luthier's Sonata

Interview by Francisco Teles da Gama
Photograph © António Saldanha
The artist we have before us stands out in various fields. She was born in the city of Porto and would set off around the world in search of taking advantage of her multiple talents. At the School of Architecture of La Salle in Barcelona, she finished her degree in Architecture. Her passion for music led her to study violin at the Metropolitana conservatory in Lisbon. This means that before Catarina was a luthier she had already been a violinist. In this context, her participation in the orchestras Concerto Moderno and Jove Orquestra Simfònica de Barcelona stands out.
Architecture and music came together through the elaboration of a greater plan, the prodigious ability to transform the raw material of nature into a unique object with centuries of history, which had already passed through the hands of Geminiani or Telemann – the violin. The first time Catarina was able to admire this noble art was in Lisbon in 2009, when she did an internship with luthier Judith Bauer. She recently finished her training as a luthier and has extensive experience in restoring instruments.
The BELE, Basque School of Violin Making, in Bilbao, where she studied stands out for its use of the original Cremon method, from the city of Cremona, known for its ancient manufacture of violins. Sherlock Holmes himself always stressed the fame of violins from this Italian city, perhaps because he didn't yet know the mastery of Catarina Veiga at the end of the 19th century. The luthier that we will learn more about in these pages has built and restored violins, cellos, and violas for various orchestral and conservatory musicians throughout Portugal. If you want to find her, we invite you to visit her website at
catarinaveigaluthier.com
. We will enter her atelier in Lisbon's Belém neighbourhood and take a seat: the show will begin in a moment.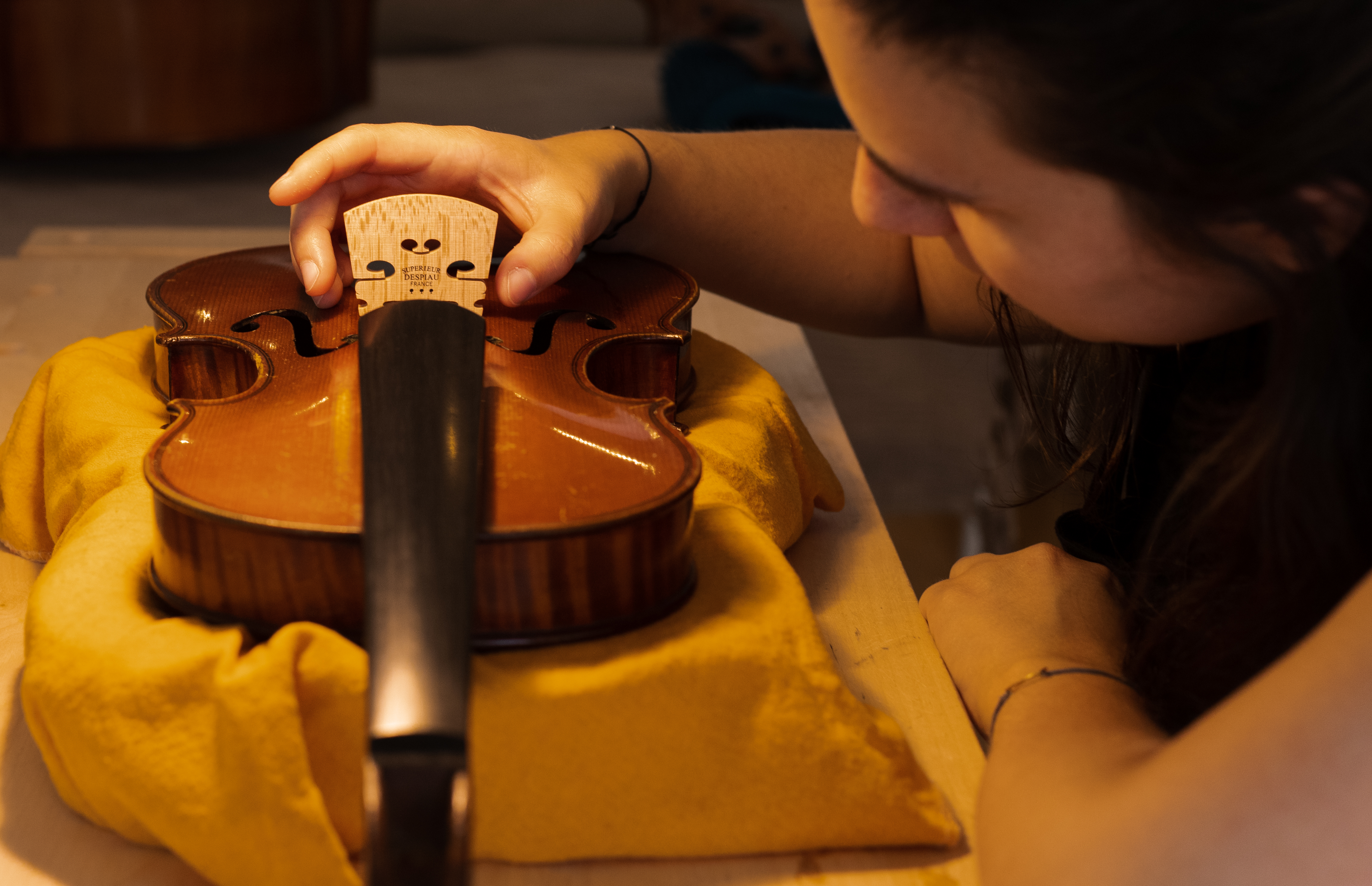 Photograph © António Saldanha


We know that besides being a luthier, you are also a violinist. What instrument do you play the most, apart from the violin?


I began my music journey when I was six years old. At first, I learned to play violin, cello and piano, and at age of eight I was told that I had to decide on only one to pursue more seriously. I chose the violin, even though I always wanted to also play the piano. Later I had the opportunity to have some piano lessons, but violin is the only instrument that I know how to play well.


Being a violinist, you have a closer relationship with the instrument. Do you feel that this provides an easier way to design it?


Being a violinist, and a musician in general, gives me a possibility to experiment and feel the instrument that I would never have the opportunity, or know how to do it, if I wasn't a musician. While finishing an instrument, it's easier to just pick up the violin, see what doesn't work and change it. This allows me to do this in a quicker way and not having to wait for a musician to comment on the instrument. Of course, it is always better to have more opinions, but I don't know how I would do it without knowing how to play. Being a musician also enables me to speak the same language as the other musicians, so it is easy to communicate and understand what they want about the instrument. Being an architect, though it seems it has nothing to do with being a luthier, also gives me a perspective on structures and how the materials work that I wouldn't have if not be for my previous studies.
Who encouraged you the most to learn the art of building violins?


My interest in this art began when I was studying at the conservatory. I was always curious about materials, how things are made and always had a passion for handwork. I had the first experience on a luthier's atelier when I was sixteen and did a bridge for my violin at the time. It was only two weeks but was amazing and I loved it. I always knew this was the way I wanted to go professionally, but there are few schools, and circumstances led me to choose architecture first. I'm glad I did it because it gave me a technical understanding of structures, physics, technical drawing, and color (for varnishes) that I now use every day in being a luthier. Lutherie is acoustic microarchitecture.


All the materials that make up a violin create a unique piece. What materials are used to bring a violin to life?


The base material is wood for the main body of the instrument. The fingerboard (the black part where the strings are) is made of ebony wood, but being as it is an endangered species, there are composites that are being tested and used to find a more sustainable solution. Besides the strings, all the materials used to build an instrument are natural and sustainable, the glues and the varnish are made with natural ingredients. Another very important material that makes an instrument is time. Everyday an instrument changes, depending on the weather, the humidity, the player, how often it's played. Those are not quantifiable and one of the variables that make each instrument unique.


Is wood an easy raw material to work with? What different woods do you use for creating a violin?


Like any raw material, the most important thing to remember is to respect the material. Listen to what it has to say and respect it. We can't force the wood to be something it isn't. Sometimes when we see that the wood is not responding, or it's splitting somewhere it's not supposed to, we must change direction of work, the tool we're using, or even the piece of wood and use it to build something else. The woods that are used to build a violin are used spruce for the top plate (what we see with the holes) and maple for the back plate and neck.


Which luthiers most influenced the foundation of your atelier?


Of course, all my teachers in BELE, where I studied, influenced me in opening my own atelier, but I think who motivated me the most to do it was my family. Through all my life I was taught the value of hard work, dedication, and resilience, so I think my fate was always to create my own path doing something I love.

Photograph © António Saldanha

There are musicians who have explored all the potentialities of the violin, such as Telemann or Paganini. Which composers and violinists have become a reference for you?


Being an architect, I can't put aside all my background. As my reference in architecture is Ludwig Mies Van der Rohe, I live by is motto "less is more" and apply it in my work. Even though we are creating instruments from the Baroque Era, everything in an instrument has a function and a reason why is like it is. There have been many studies, but this is the form that works, in terms of sound and aesthetics. Doing the parallel with the architecture, it's the simplest that it can be to function well. As a musician, my favorite composer is Beethoven, precisely because of that.


The art of planting forests, building a natural universe that transcends the barriers of an orchestra is an uncommon gift. Do you feel you have the power to transform wood into a new representative of the force of nature?


Being able to transform a raw material in a work of art is very fulfilling. However, being able to build a tool for express yourself is immensely gratifying, and that I think is the true power. You are giving the means to someone to express their soul without words. Each instrument has its own ecosystem in the way that it works like no other, precisely because each wood is different. From the same tree can be born very different instruments. There are many variables at play on building an instrument, and even made by the same person they are all different. An instrument is nature as a way of communication.
Your Midas touch brings a simple object to life. What is it like to create a masterpiece and then let it go to ravish the emotions and the audience's applause?
In my opinion, it's not the sensation of letting it go. You are building the instrument with a purpose and by being played you are allowing it to fulfil its purpose. An instrument on the case or a shelf in a museum is a dead instrument. Instruments are meant to be played and heard. The life of the instrument doesn't end with the luthier. Like the wood that it's made of, it changes with time and with every player. As a luthier, hearing an instrument made by you for the first time is just the beginning of the journey. Being able to witness how it change over time gives you immense pleasure, but above all, it gives you a unique living source of knowledge.
Photograph © António Saldanha
The interview to Catarina Veiga was published on pages 76 to 80 in the
Tropical Botanical Garden
chapter of FITA Magazine Vol. II / Garden Constellation dedicated to the city of Lisbon.